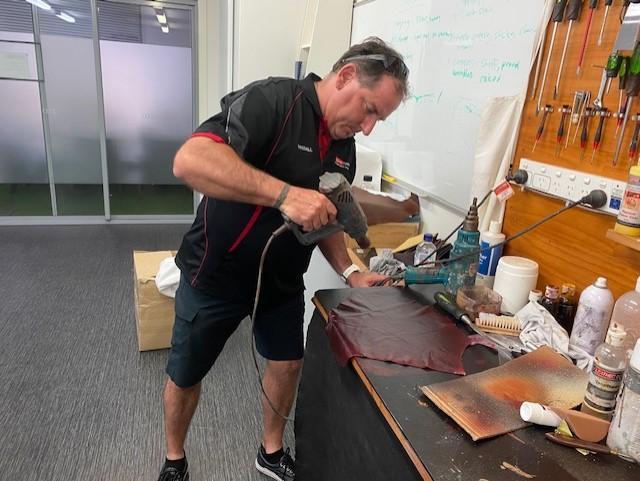 Please welcome our newest Queensland Leather Doctor – Randall Dau. He will be commencing operations servicing The Leather Doctor Rockhampton territory.  We spoke to him about his reasons for joining The Leather Doctor and what he hopes to achieve with his new business. Here's what he had to say…
What was it that attracted you to join The Leather Doctor business?
The Leather Doctor franchise is a successful Australian business with a reputation for exceptional and professional service. This appealed to me when I was looking at different business models and searching for ways to become self-employed and to run my own successful business, doing what I loved and enjoyed doing. After speaking to other Leather Doctor franchisees…  I realised that this was the business for me… A Leather Doctor I would be …
What did you do prior to becoming a Leather Doctor?
I was employed as a nurse for 25 years and operated a small family-run upholstery business, specialising in furniture refurbishments & motor-trimming.
What territory will you manage?
I will be managing and operating the Rockhampton and surrounding areas.
What do you hope to achieve during your time as a Leather Doctor?
I am looking forward to fulfilling my personal goals and dreams in achieving a great work/life balance, gaining financial security and allowing flexibility in a rewarding career. I am also looking forward to increasing my knowledge base and learning new skills .
Tell us something interesting about yourself?
I get great satisfaction from refurbishing and restoring various antique and traditional furniture pieces such as genoa lounges. So chunky and full of dust. Applying time, patience, knowledge and skill; the end result is amazing. New heart & life in an old worn out piece of furniture.
Describe your ideal weekend?
Playing golf and enjoying the peaceful serenity, as well as enjoying the challenges of local courses and then coming home for some well earned down time.
If you're in need of Randall and Sharon's assistance for a Leather or Vinyl cleaning, maintenance, repairs or re-colouring across Rockhampton and the surrounding area, please contact them today:
The Leather Doctor Rockhampton
Phone – 0427 332 043
Email –  randall.dau@theleatherdoctor.net.au
About The Leather Doctor
Leather Doctors are highly skilled in undertaking a variety of work to leather and vinyl furniture, seating, car and boat interiors, medical and gym equipment, restaurant seating, office furniture and accessories to include:
cleaning and conditioning to leather and vinyl,
stain removal on leather and vinyl,
repairs to cuts, burns, scuffs and stitching on leather and vinyl,
re-colouring leather,
re-upholstery of leather, vinyl and fabric furniture and seating,
recliner mechanical repairs, and
foam replacements and frame repairs to furniture and seating.
All Leather Doctors travel in branded vans which allows them to come to you to complete jobs and also gives you peace of mind about who you are letting into your home or business.