Property managers often encounter various types of damage to stone surfaces in the properties they oversee. Scratches on tile flooring, burns on veneer benchtops, dents on stone stairs- the list goes on! So how can Timber Doctor repairs help you as a property manager? The Timber Doctor offers a range of expert services for property managers, flooring companies, furniture companies, and more across Australia, New Zealand, and Tasmania.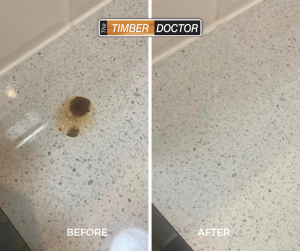 Common Stone & Specialty Surface Damage
Chips and Cracks: Stone countertops, tiles, or flooring can develop chips and cracks due to impacts or heavy objects dropped on them.
Stains: Like timber, stone surfaces are susceptible to staining from liquids, oils, or other substances.
Etching: Acidic substances, such as lemon juice or certain cleaning agents, can cause etching or dull spots on stone surfaces.
At The Timber Doctor, we are experts in surface repairs and restoration to include: 
Surface refinishing to damage such as nicks, gouges, dents and chips on granite, marble, stone, tile, melamine and laminate surfaces
Surface repairs to ceramic and porcelain tiles, vases and specialty furniture
Veneer, engineered wood and high gloss finish repairs to kitchen and bathroom benches, flooring and stairs, handrails and musical instruments such as pianos
Surface repairs to damage and defects on laminate and veneer bench tops, cupboards, surfaces and flooring
Surface restoration to include touch up painting to camouflage or correct scuffs, scrapes, and marks
Caravan wall crack and paint damage repairs
Property managers can rely on professional services provided by The Timber Doctor to address and rectify these types of damage to ensure that the properties they manage remain in good condition and maintain their aesthetic appeal.
As a property manager, you understand the challenges of maintaining the appeal and value of your properties. The Timber Doctor is your trusted partner in this endeavour. Our team of experts specialises in the repair, restoration, and maintenance of timber surfaces, ensuring they look their best and remain in excellent condition.
Whether it's addressing scratches on stone and tile floors, rejuvenating damaged furniture, or providing customised solutions, we're here to enhance the overall aesthetics and longevity of your property. With our quick response and ongoing maintenance plans, Timber Doctor repairs make your job easier and your properties more appealing. Let The Timber Doctor be your go-to solution for all things stone & specialty surface- related, and experience the difference our expertise can make in elevating your properties.
About The Timber Doctor
Our national network of Timber Doctors offer a vast array of indoor and outdoor timber maintenance and professional timber care services. They're also skilled in repairs to specialty surfaces such as laminate, porcelain, and high gloss surfaces. No matter how big or small the job may be! The Timber Doctor is able to help you bring your damaged timber furniture, finishes and flooring back to life.
At The Timber Doctor, we work across both domestic and commercial sectors. This means we're able to assist with timber repairs during or post renovations, repairs in strata, managed or holiday properties, repairs in caravans and boats, timber repairs via furniture businesses or removalists as well as private work in homes or offices. Timber Doctor repairs can make your job easier!
How A Timber Doctor is able to help you:
Timber Doctors are specifically trained indoor timber furniture and flooring repairs and restorations. It is their core business and they use specially formulated products and processes. We ensure the indoor timber furniture and flooring repairs and restorations they offer are first class.
We use high quality, professional timber repair and restoration products and processes to return a professional finish.
Our timber specialists understand how to properly care for all kinds of timber floor and furniture finishes. This gives you the confidence to trust them to safely and effectively repair and restore your timber.
All Timber Doctors travel in branded vans which allows them to come to you to complete jobs, giving you peace of mind about who you are letting into your home or business.