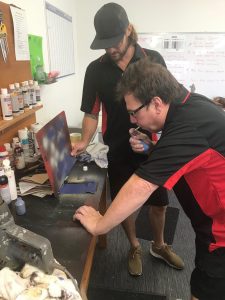 It's a warm welcome to our newest Leather Doctor, Colin, who will be commencing operations servicing The Leather Doctor Dandenong territory in Victoria. Colin will also be operating a Fabric Doctor service too, helping to clean, protect and stain remove from fabric furniture and finishes. We spoke to him about his reasons for joining The Leather Doctor and what he hopes to achieve with his new business. Here's what he had to say
What was it that attracted you to join The Leather Doctor business?
After being made redundant I started to look at buying a franchise.  I knew I didn't want to do food or gardening but an advertisement for Leather Doctor came up on my Facebook feed. I thought it looked different and interesting , and something I'd never heard of. The more I looked into it, the more I was drawn to it and the more I thought it was something I could do.
What did you do prior to becoming a Leather Doctor?
I spent 40 years in the printing industry. I am, by trade, a bookbinder/print finisher and for the last 20 years have been in supervisory or managerial roles. My last position was a workflow factory floor manger.
What territory will you manage?
I'll manage The Leather Doctor Dandenong territory in Victoria.
What do you hope to achieve during your time as a Leather Doctor?
The flexibility of working for myself and hopefully financial independence.
Tell us something interesting about yourself?
I love rock and blues music and I play the guitar (all be it badly). I currently have 6 guitars, 4 amps plus an array of accessories… but you can never have to many guitars!
Describe your ideal weekend?
Chilling with my family and friends at the beach or at home in the spa. Going out to dinner and drinks and then out to a gig or maybe just playing my guitar.
Phone – 0419 514 016
Email –  colin.adams@theleatherdoctor.net.au