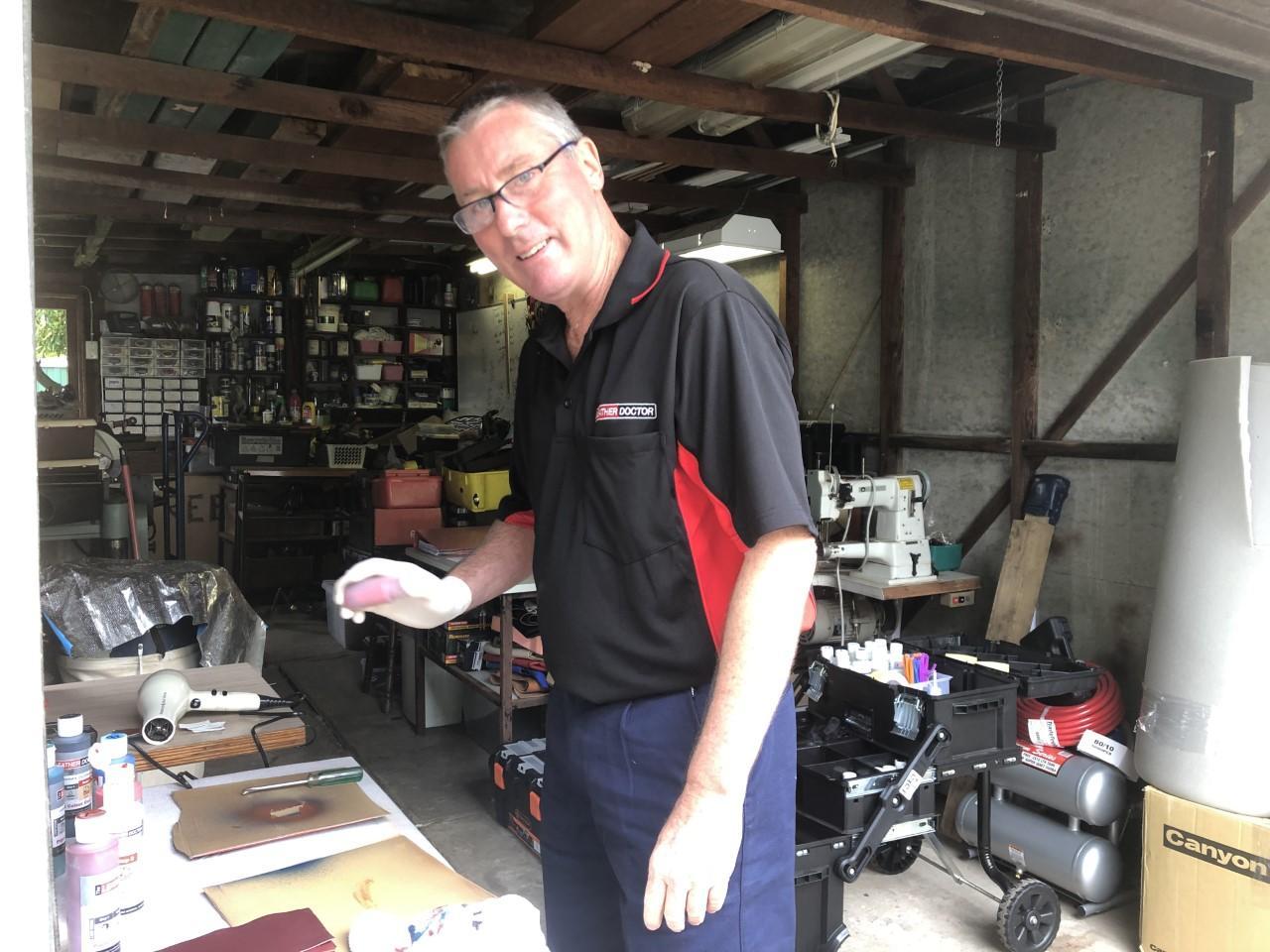 Please welcome our newest New South Wales Leather Doctor – Colin Shugg. He will be commencing operations servicing The Leather Doctor in the Sydney Northern Beaches territory.  We spoke to him about his reasons for joining The Leather Doctor and what he hopes to achieve with his new business. Here's what he had to say…
What was it that attracted you to join The Leather Doctor business?
I heard about the franchise through a colleague and it fit well with my previous experience. It seemed to be a good opportunity to take my future into my own hands.
What did you do prior to becoming a Leather Doctor?
I started out in banking and customer service type roles but evolved into hands-on roles, maintenance, design and fabrication. I then studied Fine Arts as a sculptor.  I've also worked with Cerebral Palsy Alliance for 15 years as a wheelchair technician, where I produced their customised wheelchair upholstery.
What territory will you manage?
I will be managing the Northern Beaches area of Sydney, a large, affluent area with a lot of marine influence.
What do you hope to achieve during your time as a Leather Doctor?
I want to develop a successful business that allows me to release my creative bent whilst providing a reliable income and a good work/life balance. I feel I have the potential to make The Leather Doctor brand a strong player in this field in this area.
Tell us something interesting about yourself?
I have a strong focus on art and have had several sculpture exhibitions around Sydney. I also spent a year sailing around the Caribbean and up the East coast of the USA on a luxury motor yacht. ?
Describe your ideal weekend? 
There is a constant process of renovation around our home, so I am always tinkering, sawing, routing, painting or fixing something or other. I love it, especially if I can carry a sneaky beer around while I'm at it.
If you're in need of Colin's assistance for a Leather or Vinyl cleaning, maintenance, repairs or re-colouring across the Sydney Northern Beaches area, contact him:
The Leather Doctor Sydney Northern Beaches
Phone – 0407 299 000
Email –  colin.shugg@theleatherdoctor.net.au
About The Leather Doctor
Leather Doctors are highly skilled in undertaking a variety of work to leather and vinyl furniture, seating, car and boat interiors, medical and gym equipment, restaurant seating, office furniture and accessories to include:
cleaning and conditioning to leather and vinyl,
stain removal on leather and vinyl,
repairs to cuts, burns, scuffs and stitching on leather and vinyl,
re-colouring leather,
re-upholstery of leather, vinyl and fabric furniture and seating,
recliner mechanical repairs, and
foam replacements and frame repairs to furniture and seating.
All Leather Doctors travel in branded vans which allows them to come to you to complete jobs. This gives you peace of mind about who you are working with.