Please welcome our newest New South Wales Leather Doctor – Steve Girgis. He will be commencing operations servicing The Leather Doctor in the St George and Sydney Eastern Suburbs territories. He is also our first New South Wales (central) based Timber Doctor. We spoke to him about his reasons for joining The Leather and Timber Doctor and what he hope to achieve with his new business. Here's what he had to say..
What was it that attracted you to join The Leather Doctor/Timber Doctor business?
After over a year of researching several different business models I came across The Leather Doctor and Timber Doctor franchise network. I continued to learn about it in detail chatting to their Head Office and also franchsiees who all seemed to be stable and satisfied. The fact that I could learn a whole new skill set and it was a mobile business model also added to the attraction.
What did you do prior to becoming a Leather Doctor/Timber Doctor?
Before joining The Leather Doctor/Timber Doctor I was a Retail Operations Manager with 7-Eleven for 11 years.
What territory will you manage?
I will be managing the St George and Sydney Eastern Suburbs territories for The Leather Doctor, and greater sydney for Timber Doctor.
What do you hope to achieve during your time as a Leather Doctor/Timber Doctor?
I'm hoping to achieve financial freedom and success, with the flexiblity to work when suitable for myself and my family. I also hope to put my new skill set into my local community to become resourceful to assist others. 
Tell us something interesting about yourself?
I own a couple of Classic 1965 Mustangs that I take out on weekends to help others celebrate their special day i.e weddings. It is quite a satisfing past time. They are a joy to drive when not doing weddings.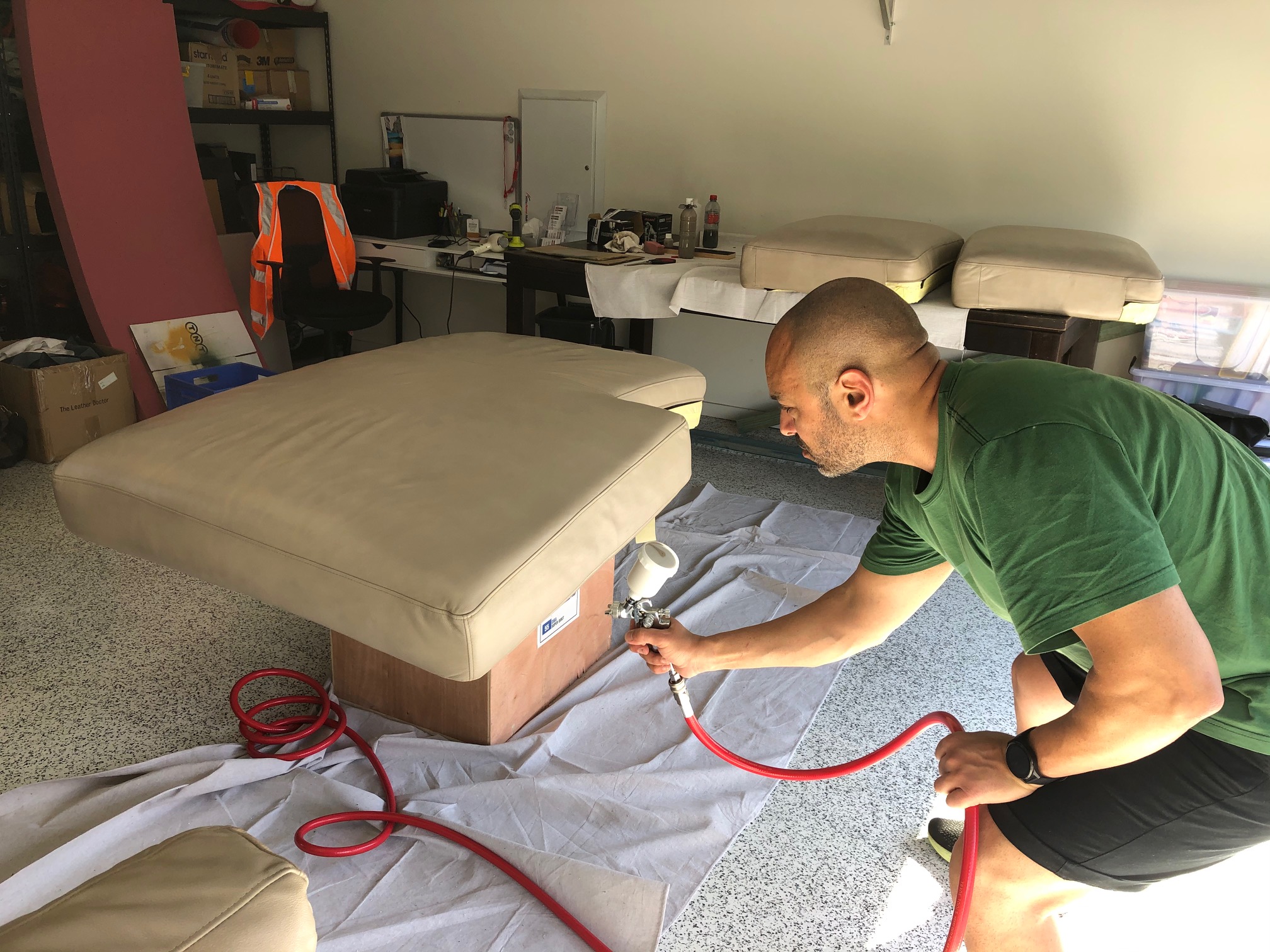 Describe your ideal weekend? 
The charcoals are being prepared and family/friends are over for a BBQ and cold beverages. And the kids running a muck together in the yard. 
If you're in need of Steve's assistance for a Leather or Vinyl cleaning, maintenance, repairs or re-colouring across the St George and Sydney Eastern Suburbs areas, please contact him today:
The Leather and Timber Doctor St George and Sydney Eastern Suburbs
Phone – 0419 508 521
Email –  steve.girgis@theleatherdoctor.net.au
About The Leather Doctor
Leather Doctors are highly skilled in undertaking a variety of work to leather and vinyl furniture, seating, car and boat interiors, medical and gym equipment, restaurant seating, office furniture and accessories to include:
cleaning and conditioning to leather and vinyl,
stain removal on leather and vinyl,
repairs to cuts, burns, scuffs and stitching on leather and vinyl,
re-colouring leather,
re-upholstery of leather, vinyl and fabric furniture and seating,
recliner mechanical repairs, and
foam replacements and frame repairs to furniture and seating.
All Leather Doctors travel in branded vans which allows them to come to you to complete jobs and also gives you peace of mind about who you are letting into your home or business.