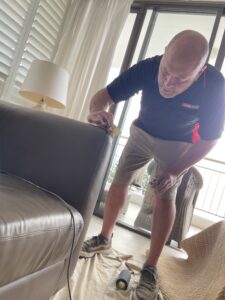 We are extremely proud and excited to announce that The Leather Doctor has expanded into the US market. The Leather Doctor has operated for 30 years and has an extensive presence across Australia, New Zealand and Dubai. The next stage of growth sees us expand into the US market, where the demand for leather and vinyl services is vast.
Our first Leather Doctor licensee is Shane Mangisi.
Shane will be operating The Leather Doctor Huntington Beach territory in California, USA.
We spoke to him about his reasons for joining The Leather Doctor and what he hopes to achieve with his business.
Here's what he had to say…
What was it that attracted you to join The Leather Doctor business?
2 things that attracted me to The Leather Doctor was the relaxed family type atmosphere that was shown when I visited the Head Office in Australia. The business plan is also extremely supportive and positive.
What did you both do prior to becoming a Leather Doctor?
Prior jobs include contractor for railroad, contractor for Fedex, and an oilfield worker.
What territory will you manage?
I'll be working and managing the Huntington and Newport Beach area in California.
What do you hope to achieve during your time as a Leather Doctor?
I hope to learn lots of new skills and having new experiences with The Leather Doctor as it grows in the USA.
What advice would you give to someone looking to work in a franchise?
Just do it! (seriously)
Tell us something interesting about yourselves?
I ran with the bulls in Spain!
Describe your ideal weekend?
Ideal weekend would be anywhere warm with my wife.
If you have any friends or family that are in need of leather or vinyl services in the Huntington Beach area of California, please contact Shane for a free quote. Services are available on furniture, cars & boat interiors, office furniture, restaurant & café seating, gym & medical equipment.
The Leather Doctor Huntington Beach
P: +1 (657) 272 9347
E: shane.mangisi@theleatherdoctor.com
About The Leather Doctor
Leather Doctors are highly skilled in undertaking a variety of work to leather and vinyl furniture, seating, car and boat interiors, medical and gym equipment, restaurant seating, office furniture and accessories to include:
cleaning and conditioning to leather and vinyl,
stain removal on leather and vinyl,
repairs to cuts, burns, scuffs and stitching on leather and vinyl,
re-colouring leather,
re-upholstery of leather, vinyl and fabric furniture and seating,
recliner mechanical repairs, and
foam replacements and frame repairs to furniture and seating.
All Leather Doctors travel in branded vans which allows them to come to you to complete jobs, giving you peace of mind about who you are letting into your home or business.