After two years of being unable to come together as a group, we were finally able to cross borders and meet as a collective for the 2022 Leather, Fabric and Timber Doctor Conference in March.
Our group has grown significantly over the past few years, and with almost 100 franchises now live across the Leather, Timber and Fabric Doctor brands across Australia and New Zealand.
So, being able to have just over 75% of the team in the same space sharing ideas, learning new skills and ensuring that their businesses were geared to meet the growing demands of both commercial and private customers across their respective industries was fantastic.
Whilst our Annual Conference is a time for our Leather, Fabric and Timber Doctors to finesse their skills and learn about the advancements in technologies and repairs (and believe us when we say there are some!) it's also a time when we recognise the fantastic efforts that the Leather, Fabric and Timber Doctors put into their business and servicing you, our customers, each and every day.
Not to be all work and no play, following the training and group updates, the group was able to enjoy some time mingling and also experiencing a fantastic show by Matt Hollywood – magician and illusionist.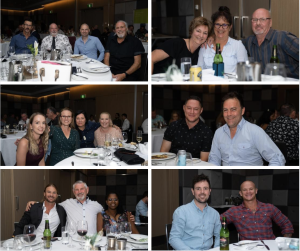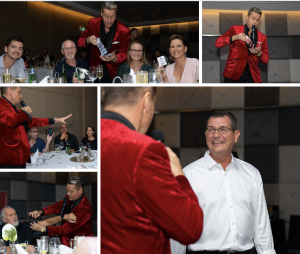 Awards
There were several awards presented during the conference for efforts over the past 18 months.
The awards were presented by our General Manager, Doug Blackley and Operations Manager, Peter Matheson.
From all of us at the Leather Doctor, we would like to congratulate the following 2022 award winners who have shown a great commitment to their business and its growth:
We also want to thank and recognise our extended Leather Doctor, Fabric Doctor and Timber Doctor franchise network, who, as a collective, ensure tens of thousands of jobs are completed each year, resulting in happy customers and a lot of leather, viny, fabric and timber furnishings living longer!
A huge congratulations to the winners.
At each conference, we also present service awards, acknowledging those who have been with The Leather Doctor for extended periods of time. This year, we were proud to present a number of 5, 10 and 15 year awards. Congratulations goes to:
5 Years
Fazim Ali (Ipswich), Larry Kelly (Ballarat), Rod de Andrade (Canberra), Warwick and Liz Neil (Marion), Charles and Ashley Ginty (Port Macquarie), Daniel Murton (Bunbury), Hayley and Marty Brownrigg (Broadbeach), Brett and Angela Archer (Geelong), Tony Pompallier (Werribee), Scott and Kylie Gambell (Newcastle), Ian Dewey (Woolongong), and Lex and Brenda Reid (Cairns).
10 Years
Ryan and Chris Macdonald (Logan), Troy Harris (Redlands), David and Paulina Williams (Caboolture), Jon and Jackie Minards (Sunshine Coast), Jason and Ronnie Reed (Townsville).
15 Years
Peter Matheson (Surfers Paradise), Michael Lane (Caloundra), Damian O'Connor (Melbourne CBD), and Tyson Mercieca (Heidelberg).
If any of these award-winning Leather Doctors live near you, or are visiting you to complete a job soon, be sure to congratulate them!
The awards were accompanied by a formal dinner, where our Leather Doctors could network, share stories and successes with each other. It's always fantastic to see our extended group of franchisees in one room.
After working so hard in their businesses for the past several years, with the impacts of Covid hitting hard, it's nice to have a moment to 'let your hair down'.
We might have even caught a shot of the head office team joining in on the fun!…
We'd like to thank all the individuals and businesses who regularly call on our franchisees. As locally owned and operated businesses, our franchisees are grateful for your continued support, and look forward to helping you make your leather, fabric and timber live longer in the months and years to come.
If you would like to learn more about the Leather, Fabric or Timber Doctor businesses and the franchises available, click here.