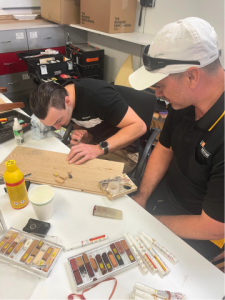 Please welcome yet another Timber Doctor to our network – Beau! He will be managing The Timber Doctor Adelaide territory in South Australia. We spoke to him about his reasons for joining The Timber Doctor and what he hoped to achieve with the business.
Here's what he had to say…
What was it that attracted you to join The Timber Doctor business?
My passion for working with my hands, fixing things and developing technical skills. I also have a love for woodwork and the extreme satisfaction I get from seeing a project finished. Especially from working with raw materials and seeing how much they can transform. This was also a perfect opportunity for me to create a lifestyle to be able to raise a new family with my partner. Particularly to give her the ability to be the stay-at-home mum she's always wanted to be.
What did you do prior to becoming a Timber Doctor?
I did 7 years in the full time Australian Army serving within the Corps of Transport. Following this, I worked within the private transport sector starting in supervisor positions then working up to becoming the State Transport Manager of SA for Visy Logistics.
What territory will you manage?
Adelaide Metropolitan with intent to service the entirety of the wider Adelaide area.
What do you hope to achieve during your time as a Timber Doctor?
I hope to grow the business across Adelaide, expanding the portfolio to such a size that I can no longer service it as an individual. Then to employ and manage multiple permanent contractors.
Tell us something interested about yourself?
I am an avid baseball player and indoor climber and spend a lot of my spare time playing or working out. I have made a name for myself within my baseball club as a 'pinch runner'. This means I am brought onto the diamond as an offensive runner to score key runs in tight games across the high level of play.
Describe your ideal weekend?
An early morning Saturday baseball game then watching or playing in the B & A grade games following mine. Then a relaxing evening at home with my partner and daughter watching TV or playing games. Sundays are the get-projects-done day in the wood workshop or for our house.
If you're in need of Beau's assistance for timber or specialty surface repairs or restoration, please contact him via: 
The Timber Doctor Adelaide
P: 0434 547 809 
E: beau.potter@thetimberdoctor.net.au
About The Timber Doctor
Our national network of Timber Doctors offer a vast array of indoor and outdoor timber maintenance and professional timber care services. They're also skilled in repairs to specialty surfaces such as laminate, porcelain, and high gloss surfaces. No matter how big or small the job may be, The Timber Doctor are able to help you bring your damaged timber furniture, finishes and flooring back to life.
At The Timber Doctor, we work across both domestic and commercial sectors. This means we're able to assist with timber repairs during or post renovations, repairs in strata, managed or holiday properties, repairs in caravans and boats, timber repairs via furniture businesses or removalists as well as private work in homes or offices.
How A Timber Doctor is able to help you:
Timber Doctors are specifically trained indoor timber furniture and flooring repairs and restorations. It is their core business and they use specially formulated products and processes to ensure the indoor timber furniture and flooring repairs and restorations they offer are first class.
We use high quality, professional timber repair and restoration products and processes to return a professional finish.
Our timber specialists understand how to properly care for all kinds of timber floor and furniture finishes, giving you the confidence to trust them to safely and effectively repair and restore your timber.
All Timber Doctors travel in branded vans which allows them to come to you to complete jobs, giving you peace of mind about who you are letting into your home or business.