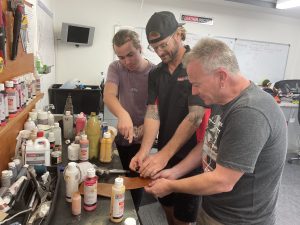 Please welcome yet another new Leather Doctor duo to our team – Nick and Ben. They will be managing The Leather Doctor CBD & Port Adelaide territory in South Australia. We spoke to them about their reasons for joining The Leather Doctor and what they hope to achieve with the business.
Here's what they had to say…
What was it that attracted you to join The Leather Doctor business?
We wanted the opportunity to work for ourselves and enjoy the benefits of our hard work rather than it going to someone else. We enjoy working with our hands and problem solving, and this work seems like it will be a mix of different tasks each day.
What did you do prior to becoming a Leather Doctor?
(Nick) I have been operating an Autosmart franchise in North Queensland, and (Ben) has been a bar manager in CBD Adelaide.
What territory will you manage?
We will be managing the CBD and Port Adelaide territory in South Australia. We have a Leather and Fabric Doctor license across this territory.
What do you hope to achieve during your time as a Leather Doctor?
Nick – I'd like to build a sustainable, reliable business where we can work the hours we want, be our own boss and enjoy each day.
Ben – I look forward to working a job that I enjoy doing every day, picking the hours I want, and building a comfortable financial position for myself.
What advice would you give to someone looking to buy a Leather Doctor franchise?
W'd recommend doing your research and making an informed decision to suit you and your goals.
Tell us something interesting about yourselves?
Nick – I can juggle
Ben – I like to fix my own car
Describe your ideal weekend?
Nick – I enjoy watching sport on tv, riding my motorbike and family time. I can also be found tinkering in the shed on a project (or two!)
Ben- I spend my weekends enjoying the sun, being outdoors or  at the beach or working on my car.
If you're in need of Nick & Ben's assistance for Leather, Vinyl or Fabric cleaning, maintenance, repairs or re-colouring in the CBD & Port Adelaide area, please contact them today:
The Leather Doctor CBD & Port Adelaide
Phone – 0405 410 603
Email – ben.fordham@theleatherdoctor.net.au
About The Leather Doctor
Leather Doctors are highly skilled in undertaking a variety of work to leather and vinyl furniture, seating, car and boat interiors, medical and gym equipment, restaurant seating, office furniture and accessories to include:
cleaning and conditioning to leather and vinyl,

stain removal on leather and vinyl,

repairs to cuts, burns, scuffs and stitching on leather and vinyl,

re-colouring leather,

re-upholstery of leather, vinyl and fabric furniture and seating,

recliner mechanical repairs, and

foam replacements and frame repairs to furniture and seating.
All Leather Doctors travel in branded vans which allows them to come to you to complete jobs, giving you peace of mind about who you are letting into your home or business.