For several years now, The Illawarra based Leather Doctor, Ian, who's wife sadly passed away from Breast Cancer, has been actively involved in raising money for the Pink Ribbon charity by wearing pink Doc Martins to all of his Leather cleaning jobs. Cancer Council's Pink Ribbon charity is dedicated to beating women's cancers through prevention and education initiatives, and raising awareness, all while working towards a future where breast and gynaecological cancers are manageable, treatable diseases.
Not only is wearing bright pink shoes a great conversation starter where Ian can promote awareness of the cause, but he also donates fifty dollars from every lounge clean to the Foundation to help find a cure and support those effected by Breast Cancer.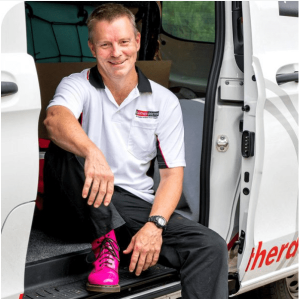 Since starting, Ian has raised in excess of $1,500 and will continue his fantastic efforts fundraising into 2019 and beyond. Whilst he's quite humble about his fundraising effort, the network of Leather Doctors looks to Ian in admiration of his dedication to raising money for such a worthy cause, which has, unfortunately, touched far too many lives.
A culture of community and giving back is centric to The Leather Doctor organisation, and we take great pride in having a network who are generous with their money and time. In saying that, this year, we've decided to take inspiration from Ian and have organised to combine powers and collectively raise money for Pink Ribbon. 15 Leather Doctors from the network have agreed to jump on board and contribute to the Pink Ribbon fundraising initiative. Each have committed to donating a percentage of proceeds from their leather repair and/or cleans completed or sales of DIY Leather Cleaning Kits during October. As a group, we're hoping to donate a minimum of $3,000 to the worthy charity.
The 15 Leather Doctors participating in the October fund raising are: Arthur (Scarborough), Matt (Bayside and Port Melbourne), Luiz (Virginia), Charles and Ashley (Port Macquarie), Nev (Noosa), Nick (Runaway Bay), Brett and Angela (Geelong), Glen (Newcastle South), Ivan (Turramurra), John and Amy (Hills & Hawkesbury), Mick (Albury), Reuben (Stafford), David (Strathpine), Hayley and Marty (Broadbeach) and Ian (Illawarra).
So, if you've got a rip, tear, cut, crack, stain, cat scratch patch, ink marks (you get the picture) on your leather that you've been putting off having repaired, or you've been thinking about having your leather lounge or carseats cleaned in time for summer, October is a great month to have it attended to. You'll not only have your leather looking good as new, but you'll also be directly helping a very worthy cause.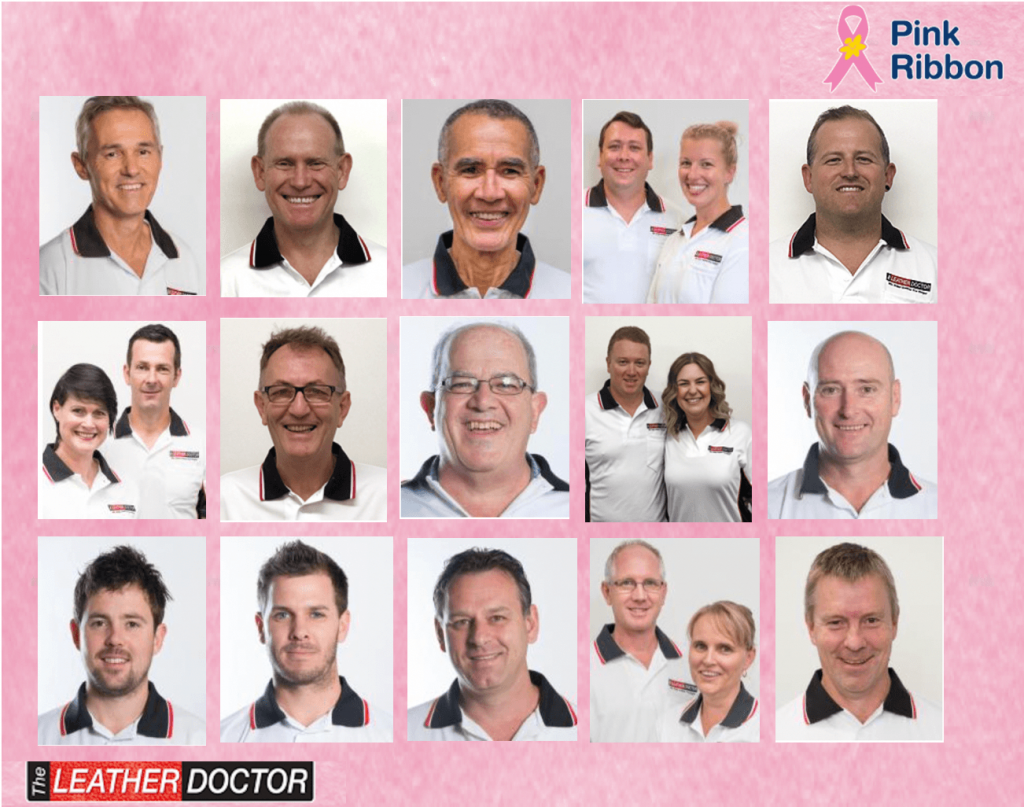 To contact any of these Leather Doctors and book them to help with your leather repair or clean, or to purchase a DIY cleaning kit from them, visit their facebook pages (linked above), or find their details here.
Make sure you also stay tuned to The Leather Doctor Facebook page for updates on how our Leather Doctors look wearing pink (whoever said men shouldn't wear pink has never seen it on these gents!), and progress reports on the money we raise.
Finally, we'd like to say thank you to all of you, our customers, for your continued support of our Leather Doctors. We enjoy helping make your leather live longer, and we're also stepping up to the battle of helping ladies across Australia live longer through the research into and (HOPEFULLY SOON) eradication of women's cancers!
UPDATE – The 15 Leather Doctors involved in the Pink Ribbon month, collectively raised $3,300. A huge effort! On behalf of The Leather Doctor head office, we're proud of you all, and thank you for helping to achieve such a phenomenal amount of money for such a worthy cause!