High standard leather cleaning and leather repairs can be painfully daunting, especially if you are attempting to fix it yourself using life hacks or DIY methods you heard about from a friend or found online. There are a countless number of things that will, can affect or damage your leather – whether it be scratches or cuts from children or pets, stains from spills, ink or soiling, discolouration caused by the sun, sweat or body oil damage, or even framework damage from years of substantial use.
All these problems have the potential to affect the look and feel of your leather furniture or accessories, rendering them unattractive and, in some cases, completely unusable. Without the proper knowledge and experience of how to correctly repair or clean damaged leather, the probability of the item looking worse off than before you tried fixing it is high. 
However, with the expertise and attention from a professional leather cleaning and repair company like The Leather Doctor, your damaged leather furniture or accessories can be professionally repaired and brought back to life. The results of our repairs and restorations are so amazing, we compiled a few examples that must be seen to be believed!
Here are the top 20 most unbelievable professional leather repair jobs completed by Leather Doctor technicians over the past year:
1. Leather lounge recolour after fading from the sun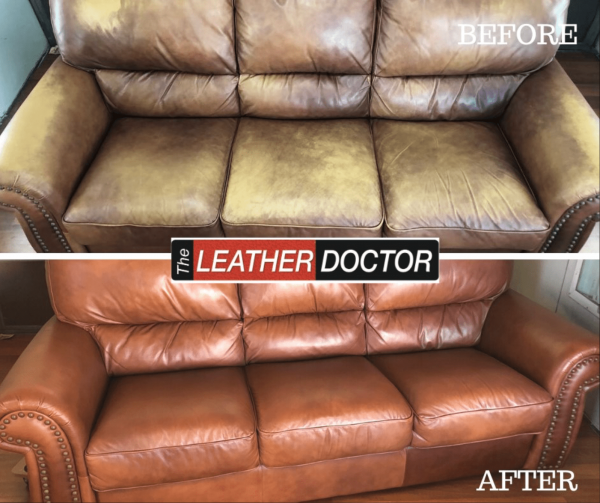 Leather can fade over time when exposed to sunlight. The Leather Doctor is highly trained in leather recolouring and restoration, which is a very technical and involved process; it's not just a matter of 'painting' the leather with a brush and bucket!
2. Damage and staining on leather car seat from heavy use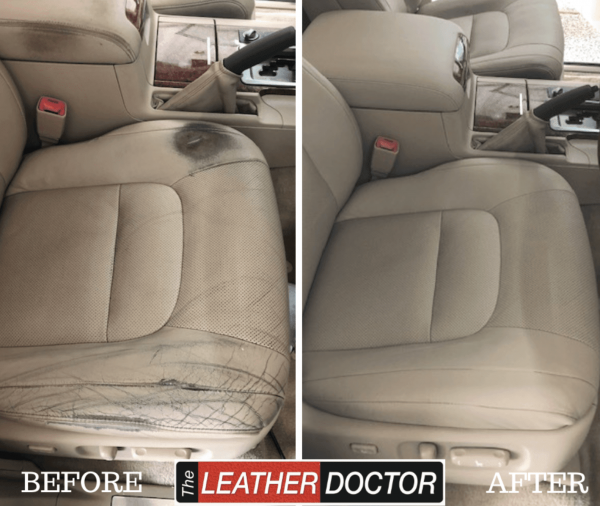 Leather car seats can become damaged from regular use. The  wear and tear experienced from getting in and out of the vehicle will gradually build up and can leave car seats looking less than desirable. Damage, scratches and tearing are often caused from belts, buckles and studs on clothing or keys, pens or phones that come into contact with the seat surface. The Leather Doctor can help repair car seat damage and also restore colour loss, grazes or scratches in leather car seats.
3. Ink stains spilt on a leather lounge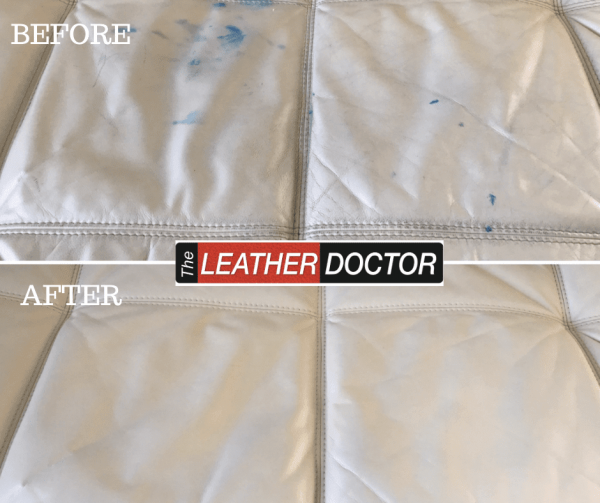 Ink stains on leather will not come out with 'home remedies' such as acetone, erasers, bleach or spray and wipe cleaning solutions. Using these items will simply strip the colour out of the leather and remove the seal on the  leather, ultimately leaving the damage worse than what it was. Removing stains and restoring the correct leather colour is a process best left to The Leather Doctor professionals.
4. Pen ink removal from leather car seat upholstery
Despite the 'wives tales' that your cleaner may swear by, pen stains on leather, whether on car seats, lounges or other upholstery, will not come out easily. Using acetone, bleach, spray and wipe or detergent will not remove the pen ink. Conversely,, it will instead damage the leather's finish and more than likely strip the colour out of the leather. Removing pen ink from leather and then recolouring the surface is a technical process that should be left to the experts. 
5. Premium leather bag recolouring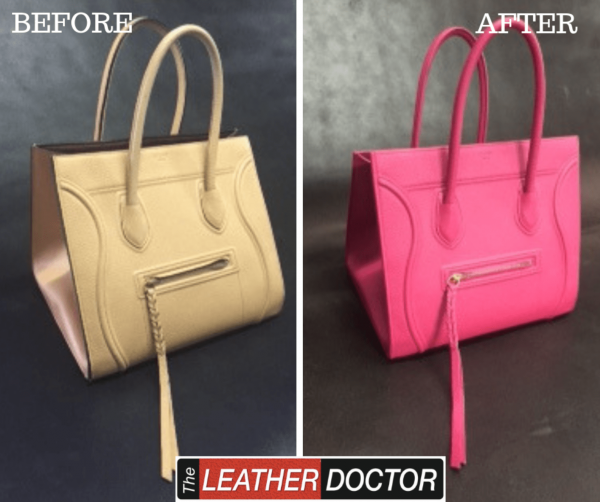 Recolouring accessories can be a costly expense, but for luxury leather designer items such as bags or purses, it can be much cheaper than buying a new one, and the results are amazing! 
6. Cat scratch repair on leather lounge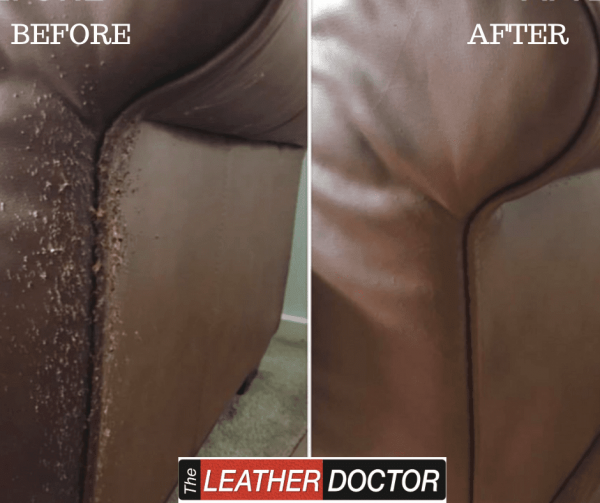 Pet damage from claws can wreak havoc on leather furniture. Leather Doctors are highly trained in repairing the cat scratched damaged leather and restoring the finish back to its original state. Leave the repairs to us while you sort out training your pet!
7. Broken chair frame repair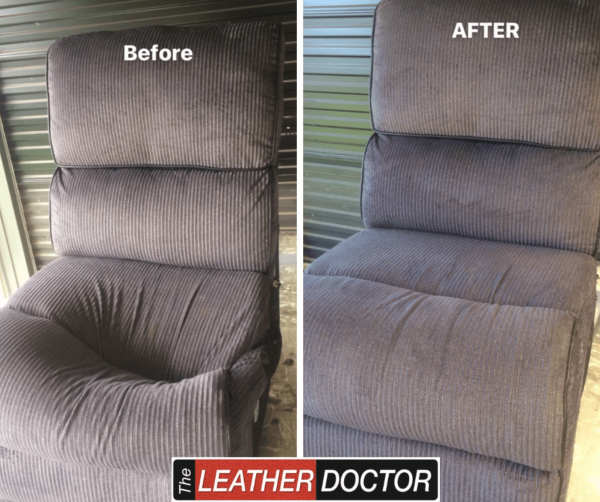 Broken frames, webbing and springs in lounges not only look terrible but are also very uncomfortable. Leather Doctors are well trained in repairing the internal workings of furniture, including springs, webbing, foam and frames as well as electrical components such as triggers and mechs. 
8. Leather lounge foam repair and re-upholstery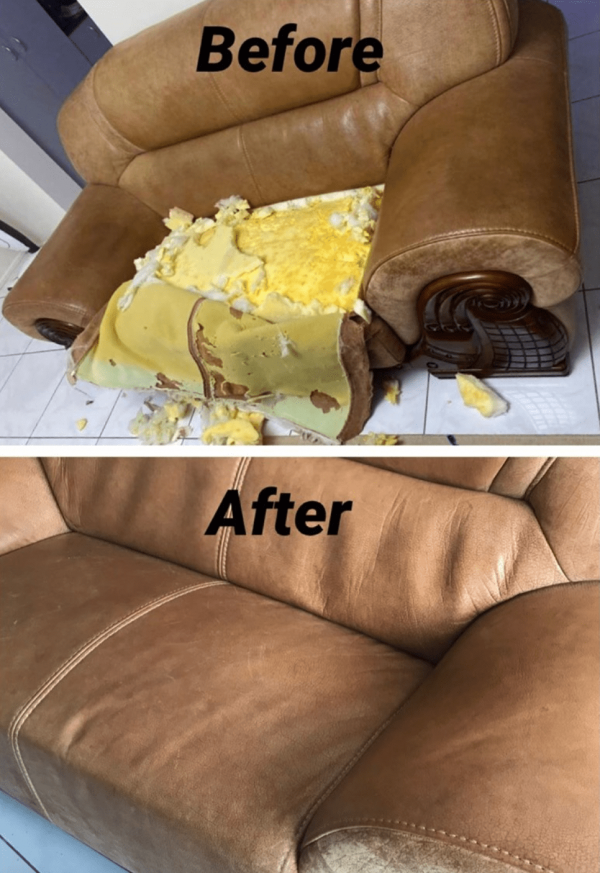 Did your dog get bored and destroy your lounge while you weren't home? Our Leather Doctors can repair damage to lounges, including supplying new foam, replacing damaged leather panels on the lounge, and helping to piece them all back together…making your lounge look and feel like new again!
9. Repaired burn marks on leather lounge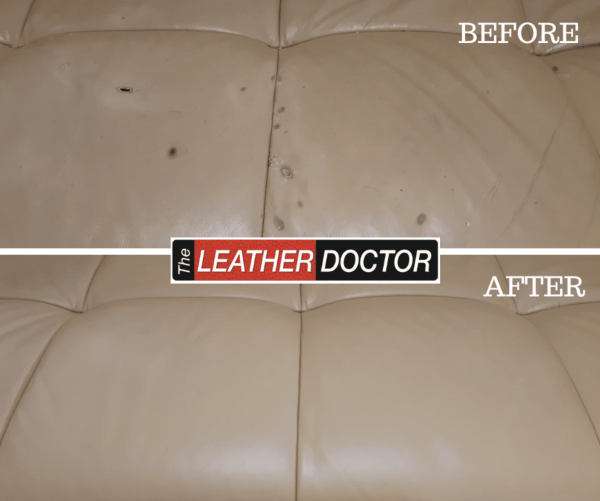 Unfortunately, burn marks caused by cigarettes or other hot materials don't just wipe off. Technical leather repairs processes are rather involved. But with the proper expertise, The Leather Doctor can have your leather looking like new again!
10. Leather recolouring
No longer like the colour of your leather chair or lounge? The Leather Doctor technicians are highly skilled in the process of recolouring leather. Comprising a large amount of work, leather recolouring requires specialised skill and materials, so should be left to the professionals. Leather recolouring is a fantastic way to update your favourite piece of leather furniture, often at a fraction of the cost of buying new.
11. Repair of cut in leather car seat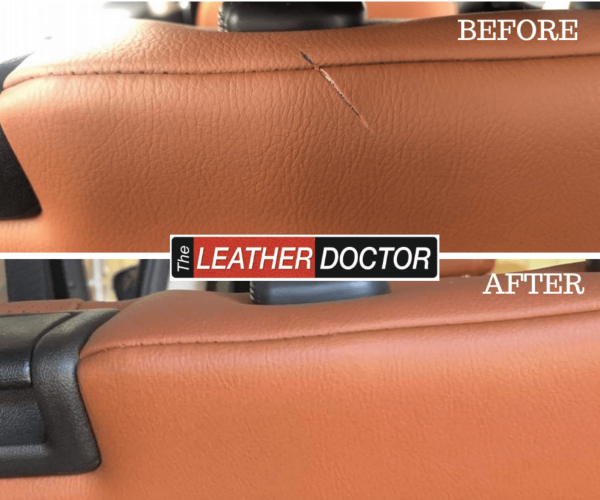 Accidental cuts or damage to leather don't have to spell disaster. Leather Doctors can repair cuts, scratches and tears to leather panels, helping them look good as new again.
12. Repair of broken stitching seams in lounge
Damaged stitching on leather furniture can be fixed. Don't let the damage grow and worsen over time. Call a Leather Doctor to come to you and repair damaged stitching and seams on your leather furniture.
13. Ottoman leather recolour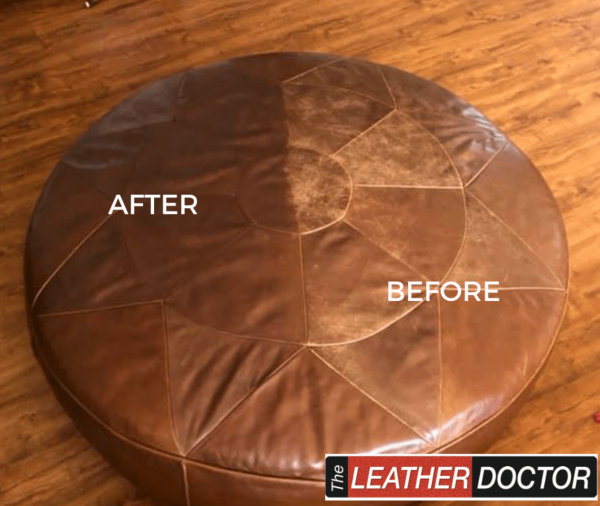 Does your leather furniture look tired and worn out? Recolouring your leather helps to restore it back to its original condition, making it look and feel like new again.
14. Antique leather chair reupholstery and recolour
Leather Doctors are highly trained to reupholster your old and worn out furniture. They're able to source leather, vinyl and fabric to suit your needs or to match your other furnishings in your home or workplace. 
15. Damaged leather from hungry puppy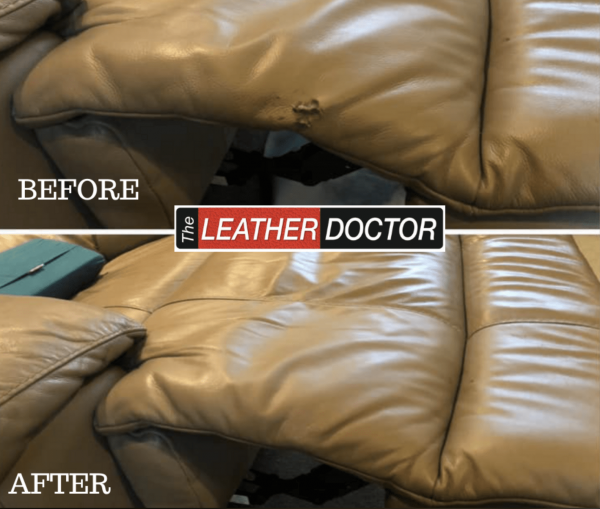 Don't let chew marks from your hungry puppy grow from a small hole to substantial damage. Have it repaired properly by a Leather Doctor before it gets out of hand and more extensive leather repairs are needed.
16. Repair of discolouration on leather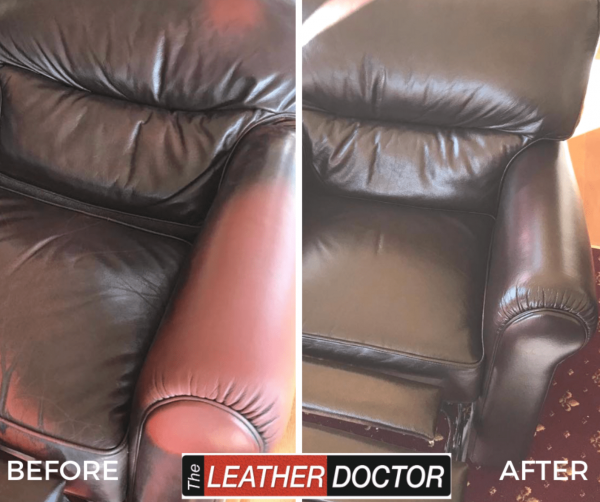 Are the high-impact areas of your leather furniture worn and showing signs of damage? Head rests, arm rests and the front of lounges are all hotspots that experience a large amount of oil damage and sweat from your head, arms and legs. If not cleaned regularly with high quality leather cleaning products, the leather will start to break down. Panel replacements and recolouring are potential solutions for these issues, helping the leather look and feel like it once used to. 
17. Slime stain removal on leather cushion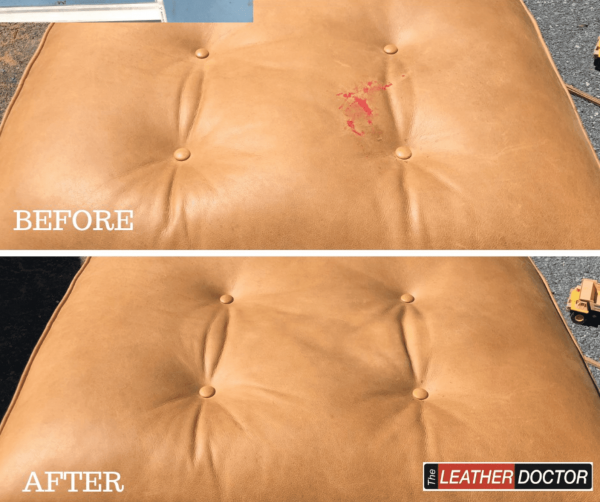 Have your children left slime on your leather furniture? Slime can be very difficult to remove from leather without causing damage or discolouration to the leather. Don't be tempted to try home remedies to remove the stain and residue – leave the job for a Leather Doctor to fix properly
18. Lounge discolouration due to sticky tape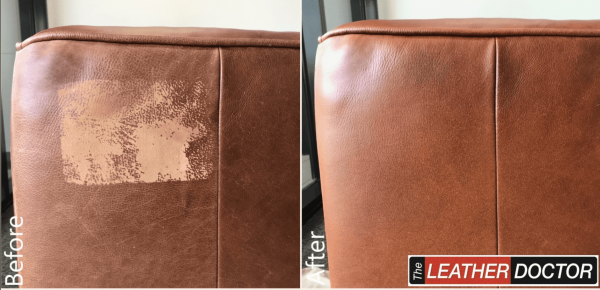 Unpacked your leather lounge and realised that sticky tape has taken the colour off? Not to worry, Leather Doctors are experts in leather repairs, repairing damaged leather and recolouring damaged areas to blend in perfectly with the rest of the furniture, hiding all traces of damage.
19. Repair of chair panels damaged by body oil and sweat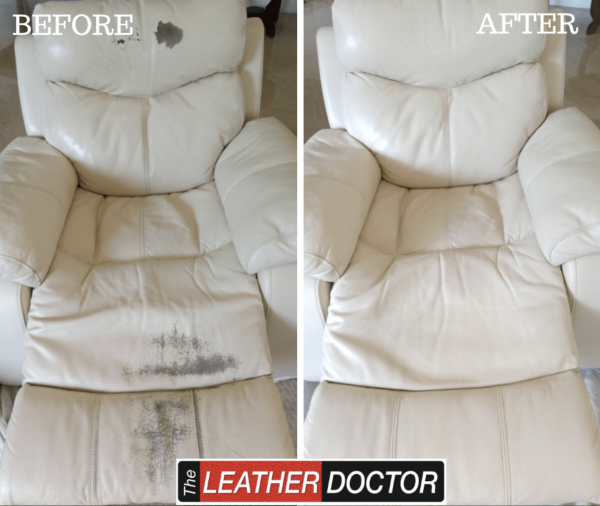 Are the high impact areas of your leather furniture worn and showing signs of damage? Head rests, arm rests and the front of lounges are all areas that experience a large amount of oil and sweat damage. If not cleaned regularly with high quality leather cleaning products, the leather will start to break down from the oil and sweat damage. After repairing your damaged leather panels,  ask The Leather Doctor to show you how to look after your leather, so it lasts for years to come and avoid future leather repairs.
20. Leather colour loss and cracking repair
If you're looking to have colour added back into your leather furniture to hide small lines, cracking or discolouration,  Tint Cream is a fantastic option. Acting like a polish, the colour is matched exactly to your furniture. This process is a fantastic way to restore your leather furniture, helping to bring it back to life.
As you can see, there is no leather repairs job too difficult for The Leather Doctor.  So, before you decide to try and clean or repair your damaged leather by yourself, or spend valuable time and money shopping for and buying new leather furniture, give The Leather Doctor a call and experience the satisfaction of rejuvenating your leather furniture or accessory back to new with a professional leather cleaning or repair service.
Servicing over 8,000 locations across all states and territories of Australia, The Leather Doctor are leaders in the leather cleaning and leather repair industry and are committed to excellence for all customers. For a free quote and answers to all your professional leather cleaning and repair questions, contact a friendly team member at The Leather Doctor today!