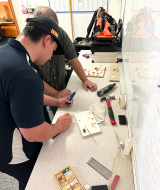 Please welcome yet another Timber Doctor duo to our network – Stephen and Adam! They will be managing The Timber Doctor Sunshine Coast territory in Queensland. We spoke to them about their reasons for joining The Timber Doctor and what they hoped to achieve with the business.
Here's what they had to say…
What was it that attracted you to join The Timber Doctor business?
It takes me back to the sort of work I did when I first began working , but this time I'm my own boss and I can allow myself flexibility.
What did you do prior to becoming a Timber Doctor?
When I left school did a cabinetmaking  apprenticeship. Returned to education and completed a degree as a Physiotherapist which has seen me gainfully employed for the last 17 years.
What territory will you manage?
We will operate the Sunshine Coast territory.
What do you hope to achieve during your time as a Timber Doctor?
I have enjoyed working as a physiotherapist. However I have worked with timber in the past and I'm excited to develop the business to a point where we are able to run two vans and have my sons gainfully employed if that be their wishes.
Tell us something interesting about yourselves?
I love life learning and value the lifelong pursuit of knowledge. I like to think the only limitations in life are the ones we set ourselves.
Describe your ideal weekend? 
4WD on Double Island is always a great way to spend the weekend. If I can't do that then I would wake early in the morning and go for either a mountain bike ride or cycle before family awakes. Then return home and spend the remainder of the weekend outdoors in the awesome Sunshine Coast weather going for a walk or chilling at the beach.
If you're in need of Stephen and Adam's assistance for timber or specialty surface repairs or restoration, please contact them via
The Timber Doctor Sunshine Coast
P: 0461 497 762
E: stephen.shepherd@thetimberdoctor.net.au
About The Timber Doctor
Our national network of Timber Doctors offer a vast array of indoor and outdoor timber maintenance and professional timber care services. They're also skilled in repairs to specialty surfaces such as laminate, porcelain, and high gloss surfaces. No matter how big or small the job may be, The Timber Doctor are able to help you bring your damaged timber furniture, finishes and flooring back to life.
At The Timber Doctor, we work across both domestic and commercial sectors, meaning we're able to assist with timber repairs during or post renovations, repairs in strata, managed or holiday properties, repairs in caravans and boats, assistance with timber repairs via furniture businesses or removalists as well as private work in homes or offices.
How A Timber Doctor is able to help you:
Timber Doctors are specifically trained indoor timber furniture and flooring repairs and restorations. It is their core business and they use specially formulated products and processes to ensure the indoor timber furniture and flooring repairs and restorations they offer are first class.
We use high quality, professional timber repair and restoration products and processes to return a professional finish.
Our timber specialists understand how to properly care for all kinds of timber floor and furniture finishes, giving you the confidence to trust them to safely and effectively repair and restore your timber.
All Timber Doctors travel in branded vans which allows them to come to you to complete jobs, giving you peace of mind about who you are letting into your home or business.