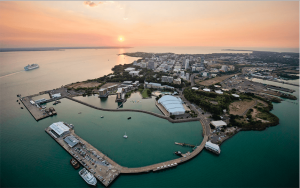 FRANCHISE OPPORTUNITY FOR SALE – DARWIN
Are you looking for a business opportunity at the top end of Australia? Look no further! The Leather Doctor currently has for sale, a fantastic franchise opportunity based in Darwin, Northern Territory.
Your investment gives you an exclusive license to an expansive franchise territory, including both domestic and commercial work.
Australia's tropical capital city boasts more than just it's natural beauty.  Darwin is a vibrant, dynamic modern city with over 140,000 warm, friendly residence.  It is also the main service centre for a wide range of industries from mining, livestock, tourism and travel.  Darwin is thriving with opportunity.
The existing owner has established a strong demand for leather cleaning, repairs, and maintenance and there is very little competition.  For several years, our retail furniture clients have been giving an abundance of work to The Leather Doctor.
The Leather Doctor is a mobile home service franchise providing clients with professional cleaning, repair, restoration, care products and maintenance for a variety of furniture, accessories and vehicle interiors made from leather, vinyl, plastic and fabric.
As one of Australia's most naturally beautiful cities, with a growing population, this is an opportunity that will be snapped up quickly.
The Leather Doctor is looking for motivated individuals and couples who want to operate their own successful business.  We look for franchisees who will enjoy being part of a national network and are excited by working with and improving upon a system with a successful track record.
If you're looking to work for yourself, earn an uncapped income, and to call the shots on your work/life balance, then this opportunity is for you.
Make an enquiry to receive a detailed territory map and post code list showing exactly what this opportunity secures for its new investor.
You can also find out more here about what our franchisees say about being a Leather Doctor.