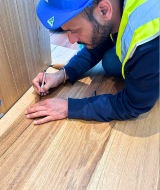 Please welcome yet another Timber Doctor to our network – Gary! He will be managing The Timber Doctor Melbourne West territory in Victoria. We spoke to him about his reasons for joining The Timber Doctor and what he hoped to achieve with the business.
Here's what he had to say…
What was it that attracted you to join The Timber Doctor business?
Flexibility to work my own hours and meet new people every day.
What did you do prior to becoming a Timber Doctor?
Prior to becoming a Timber Doctor, I worked as a disability support worker and Nav operated a cleaning business.
What territory will you manage?
I'll be managing the Melbourne West territory in Victoria.
What do you hope to achieve during your time as a Timber Doctor?
I hope to learn new skills and achieve customer satisfaction.
Describe your ideal weekend?
I love to paint and garden in my free time.
If you're in need of Gary's assistance for timber or specialty surface repairs or restoration, please contact him via: 
The Timber Doctor Melbourne West
P: 0421 046 219
E: gary.singh@thetimberdoctor.net.au
About The Timber Doctor
Our national network of Timber Doctors offer a vast array of indoor and outdoor timber maintenance and professional timber care services. They're also skilled in repairs to specialty surfaces such as laminate, porcelain, and high gloss surfaces. No matter how big or small the job may be, The Timber Doctor are able to help you bring your damaged timber furniture, finishes and flooring back to life.
At The Timber Doctor, we work across both domestic and commercial sectors, meaning we're able to assist with timber repairs during or post renovations, repairs in strata, managed or holiday properties, repairs in caravans and boats, assistance with timber repairs via furniture businesses or removalists as well as private work in homes or offices.
How A Timber Doctor is able to help you:
Timber Doctors are specifically trained indoor timber furniture and flooring repairs and restorations. It is their core business and they use specially formulated products and processes to ensure the indoor timber furniture and flooring repairs and restorations they offer are first class.
We use high quality, professional timber repair and restoration products and processes to return a professional finish.
Our timber specialists understand how to properly care for all kinds of timber floor and furniture finishes, giving you the confidence to trust them to safely and effectively repair and restore your timber.
All Timber Doctors travel in branded vans which allows them to come to you to complete jobs, giving you peace of mind about who you are letting into your home or business.