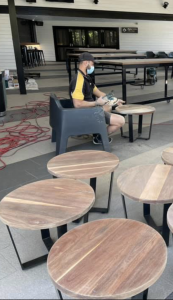 Please welcome the newest Timber Doctor to our team – Isaiah, who will be commencing as a Timber Doctor on the Sunshine Coast in Queensland. We spoke to Isaiah about his reasons for joining The Timber Doctor and what he hopes to achieve with the business. Here's what he had to say…
What was it that attracted you to join The Timber Doctor business?
It's a unique business and has the potential to become a great success. The work is really varied and interesting too.
What did you both do prior to becoming a Timber Doctor?
I just finished my apprenticeship in carpentry. My wife, Amber, has a Masters Degree in finance (so she'll be taking care of the books – I am clueless when it comes to that… lol).
What territory will you manage?
I have purchased The Timber Doctor Sunshine Coast territory.
What do you hope to achieve during your time as a Timber Doctor?
I hope to set my family up to reach our goals and live life with more freedom instead of working all day everyday.
What was it about The Timber Doctor franchise that appealed to you ?
Coming from the building industry, I liked how this work is less demanding on the body and that I'm able to work my my own hours and do the type of work I enjoy.
What advice would you give to someone looking to purchase a franchise?
Take a risk!
In order to make money, you have to spend it.
Starting off is tough but it will be the best choice you can make – especially with the Timber Doctor – they will take care of you!
Tell us something interesting about yourselves?
My wife and I were married within 8 months of meeting each other!
Describe your ideal weekend?
A bacon, egg and hash brown McMuffin for breakfast, go for a hike to a nice beach or waterhole, jump off some rocks and spend some good quality time with the family!
If you're in need of Isaiah's assistance for timber or specialty surface repairs, restoration , please contact him via:
The Timber Doctor Sunshine Coast
Phone – 0424 321 872
Email – isaiah.cowley@thetimberdoctor.net.au
About The Timber Doctor
Our national network of Timber Doctors offer a vast array of indoor and outdoor timber maintenance and professional timber care services. They're also skilled in repairs to specialty surfaces such as laminate, stone, porcelain, and high gloss surfaces. No matter how big or small the job may be, The Timber Doctor are able to help you bring your damaged timber furniture, finishes and flooring back to life.
At The Timber Doctor, we work across both domestic and commercial sectors, meaning we're able to assist with timber repairs during or post renovations, repairs in strata, managed or holiday properties, repairs in caravans and boats, assistance with timber repairs via furniture businesses or removalists as well as private work in homes or offices.
How A Timber Doctor is able to help you:
Timber Doctors are specifically trained indoor timber furniture and flooring repairs and restorations. It is their core business and they use specially formulated products and processes to ensure the indoor timber furniture and flooring repairs and restorations they offer are first class.
We use high quality, professional timber repair and restoration products and processes to return a professional finish.
Our timber specialists understand how to properly care for all kinds of timber floor and furniture finishes, giving you the confidence to trust them to safely and effectively repair and restore your timber.
All Timber Doctors travel in branded vans which allows them to come to you to complete jobs, giving you peace of mind about who you are letting into your home or business.