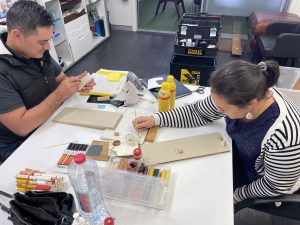 Please welcome yet another Timber Doctor team to our network – Nigel and Kerstin. They will be managing The Timber Doctor Gold Coast North territory in Queensland. We spoke to them about their reasons for joining The Timber Doctor and what they hope to achieve with the business.
Here's what they had to say…
What was it that attracted you to join The Timber Doctor business?
Over the years we have completed DIY restoration projects, built our own home, made musical instruments, Polynesian wood carvings and restoration work- this business seemed like the perfect opportunity to earn great money while doing what we have enjoyed doing for years.
What did you do prior to becoming a Timber Doctor?
Nigel worked in construction, and Kerstin is completing her second degree at university.
What territory will you manage?
We will be operating The Timber Doctor business  in the Gold Coast North Region.
What do you hope to achieve during your time as a Timber Doctor?
Meeting amazing people while offering a fantastic service, and become the trusted brand for timber repairs.
What was it about The Timber Doctor franchise that appealed to you ?
Doing something we love which is working with wood, being able to restore things and bring new life to things. Also being able to work together on running a business, while raising our family.
What advice would you give to someone looking to buy a Timber Doctor franchise?
If it feels correct trust yourself and go for it!
The government has a free franchising course to help you understand franchises and if it's right for you.
Also, seek professional advice.
Tell us something interesting about yourselves?
Nigel loves cook island culture, especially cook island drumming. He has also made drums for many years.
Kerstin has been a family historian for over 22 years and is studying to be a professional Genealogist.
Describe your ideal weekend?
Doing whatever we feel like doing on the day. Sunday is the perfect day to rest, recover and be restored with family.
If you're in need of Nigel and Kerstin's assistance for timber or specialty surface repairs or restoration, please contact them via
The Timber Doctor North Gold Coast
P: 0420 741 363
About The Timber Doctor
Our national network of Timber Doctors offer a vast array of indoor and outdoor timber maintenance and professional timber care services. They're also skilled in repairs to specialty surfaces such as laminate, porcelain, and high gloss surfaces. No matter how big or small the job may be, The Timber Doctor are able to help you bring your damaged timber furniture, finishes and flooring back to life.
At The Timber Doctor, we work across both domestic and commercial sectors, meaning we're able to assist with timber repairs during or post renovations, repairs in strata, managed or holiday properties, repairs in caravans and boats, assistance with timber repairs via furniture businesses or removalists as well as private work in homes or offices.
How A Timber Doctor is able to help you:
Timber Doctors are specifically trained indoor timber furniture and flooring repairs and restorations. It is their core business and they use specially formulated products and processes to ensure the indoor timber furniture and flooring repairs and restorations they offer are first class.
We use high quality, professional timber repair and restoration products and processes to return a professional finish.
Our timber specialists understand how to properly care for all kinds of timber floor and furniture finishes, giving you the confidence to trust them to safely and effectively repair and restore your timber.
All Timber Doctors travel in branded vans which allows them to come to you to complete jobs, giving you peace of mind about who you are letting into your home or business.