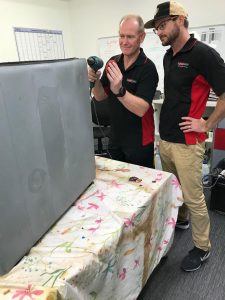 It's a warm welcome to our newest Leather Doctor, Matt, who will be servicing The Leather Doctor Bayside and Port Melbourne territory in Victoria. We spoke to him about his reasons for joining The Leather Doctor and what he hopes to achieve with his business. Here's what he had to say:
What was it that attracted you to join The Leather Doctor business?
Family owned and longevity of the business – it's been around for more than 10 years. I also loved the idea of a man and his van.
What did you do prior to becoming a Leather Doctor?
35 years in IT, with the past 18 years with a top US-based Software company in a Senior Director role. I started my career as a software programmer, then progressed to Database Administration, which provided the opportunity to work as a contractor in England and Scotland before moving and settling in Australia. For the past 18 years, I have been involved in Pre-Sales, Product Management, Product Strategy and Learning/Education.
What territory have you purchased?
I have purchased The Leather Doctor Bayside and Port Melbourne territory in Victoria.
What do you hope to achieve during your time as a Leather Doctor?
For my customers, it will be about solving their leather & vinyl challenges and providing a satisfying solution and outcome. For me personally, it is gaining a new lease on life after decades in the corporate world, and my pathway to semi-retirement following the 'Barefoot Investor' principles.
What process did you go through to make sure The Leather Doctor was the right franchise for you?
Extensive due diligence process and probably not enough space here to list ?. Detailed is word that describes me very well. From a 50,000 ft view perspective I had a lawyer review the agreements/contracts, spoke with an account/business advisor to review the profit & loss and other financial information. I looked at a number of the Leather Doctor websites and Facebook page reviews and comments. The clincher for my wife and I however, was the visit by Casey Reid (Sales Manager) to our home to demonstrate the business and specifically a clean and repair.
What advice would you give to someone looking to purchase a franchise?
Do your due diligence – make sure you check all your boxes.
Tell us one interesting fact about yourself?
I love watching and being involved in sports. I am a 8 handicap golfer and after 20 years of not playing – I picked up a hockey stick and now play Masters hockey. I am also the extremely proud parent of 2 wonderful kids, a boy and girl aged 17 and 19 respectively. I'm extremely fortunate to have seen my daughter compete and win a Youth Commonwealth Gold medal in Beach Volleyball in the Bahamas in 2017. Health and Family is extremely important to me.
Describe your ideal weekend?
My wife and I had a midlife crisis at 50 years of age…so we went out and bought a Mazda MX5 convertible!…
So, for us, our ideal weekend is comprised of the simple pleasure of hoping in the car, taking down the roof and heading out somewhere new.
If you're in need of Matt's assistance for a Leather or Vinyl clean or maintenance/repairs, please contact him today:
Ph – 0450 979 076