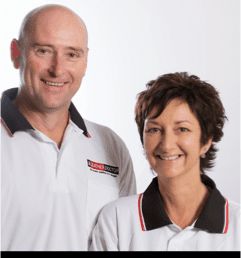 Today, we're talking to Nev and Julie Henderson – the owners and operators of The Leather Doctor Noosa Gympie in Queensland. We sat down and had a chat to them about why they joined the team and what they love about running their own business. Here's what they had to say:
What was it that attracted you to join the leather dr business?
We were looking for a business we could work in together. The Leather Doctor uses high quality products and repair methods that we were able to see ourselves working with comfortably.
What did you do prior to becoming a leather dr?
Nev was a carpenter/joiner of 30 years, running his own business. Julie was working in her own hairdressing business.
What territory do you operate?
We operate The Leather Doctor Noosa Gympie territory.
What have you been able to achieve via your time as A Leather Doctor?
Since joining The Leather Doctor team, we have been able to achieve more financial freedom and work together in our business, rather than running 2 seperate businesses. We hope to achieve continued flexibility of our time and continued support from the local community.
What advice would you give to someone looking to purchase a franchise/operate a franchise?
We would recommend getting out on the road with an existing Leather Doctor Franchisee where you will experience first hand, the variety and skill set needed for the job.
What's the most interesting job you've worked on to date?
Nev really enjoys the restoration side of the business. One of his favourite jobs has been the restoration of a WW1 Airforce jacket, followed closely by recolouring a 63 Corvette dash and trims.
What do you love most about being a Leather Doctor?
The varied work and the ability to control our work schedule are some of the benefits of this business. Working together to achieve results that at first look impossible gives us great satisfaction. The reaction from customers when they see the finished result, sometimes exceeding their expectations, would be the most rewarding.
Tell us one interesting fact about yourself?
We live on 5 acres in the Noosa Hinterland where we are renovating an old Queenslander in our spare time.
Describe your ideal weekend?
A great weekend for us would be getting outside, camping, bushwalking or even just in the garden. Relaxing in nature is great to keep us grounded and revitalised.
If you live in the Noosa Gympie area, and need Nev and Julie's help to restore, repair or clean your leather or vinyl furniture or accessories, please contact them on:
The Leather Doctor Noosa Gympie
P: 0401 402 866