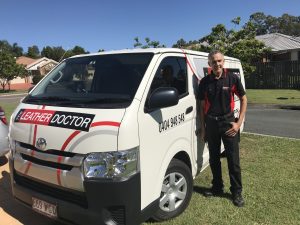 Today, we're talking to Luiz – the owner and operator of The Leather Doctor Virginia in Brisbane, QLD. We sat down and had a chat to him about why he joined the business and what he loves about running his own franchise…. Here's what he had to say:
What was it that attracted you to join the Leather Doctor business?
At the time, I was looking for work that required less physical effort and something that would allow me to be creative and not repetitive. I got an interesting offer from a Leather Doctor friend to be a contractor and after some discussions, I decided to leave my "comfort zone" to take another challenge in my life. After one year experience, I made my decision to be a Franchisee. Being a Leather Doctor, fits my personal needs very well.
What did you do prior to becoming a Leather Doctor?
I have owned couple of different kinds of business. The one before The Leather Doctor saw me operate a business as a painter, decorator and plasterer.
What territory do you operate?
I operate in The Leather Doctor Virginia area in Brisbane that covers about 37 suburbs from Nashville to Ascot. In my area, I have many industrial/commercial clients and residential as well.
What have you been able to achieve via your time as A Leather Doctor?
I have achieved so many things – in particular expanding my business and  working as a team with other Leather Doctors. Of course, I am still learning something new every single day. My goal for this year is to be more proactive and to use my time wisely.
What advice would you give to someone looking to purchase a franchise?
I can say that it is a very good business, especially if you like challenges! You'll never be bored…
What's the most interesting job you've worked on to date?
I have enjoyed doing many interesting jobs as a Leather Doctor, but, I really like to do surfaces repairs and I appreciate seeing the changes and transformations when I complete re-colour work. I have changed furniture colour from white to orange, orange to black, beige to white, etc. The change results really are amazing!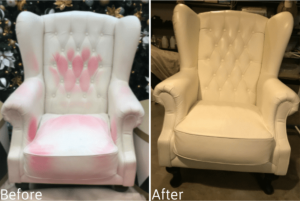 One very interesting enquiry was received last year on Christmas eve – we got a phone call from local shopping centre to ask to inspect a Santa Claus chesterfield leather chair. The chair was white, but because Santa sat on the chair every day with his red clothes, the backrest and armrest had been stained red. After Christmas, I restored the chair back to the original white.
What do you love most about being a Leather Doctor?
Meeting different people every day, solving problems and meeting my customers the "expectations"…
Tell us one interesting fact about yourself? 
I am a hard working person. I wake up at 5am every day. I love to listen jazz and love to travel around the world with my wife and speak some different languages.
Describe your ideal weekend? 
My ideal weekend is to have a time for myself, have a good rest, enjoy my family, friends, watch a good movie, help people in needs. I visit church every Sunday.
If you live in the Virginia or surrounding areas, and need Luiz's help to restore, repair or clean your leather or vinyl furniture or accessories, please contact him on:
The Leather Doctor Virginia
P: 0404 948 548

E: luiz.branco@theleatherdoctor.net.au