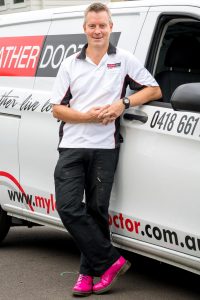 Today, we're talking to Ian – the owner and operator of The Leather Doctor Wollongong, in New South Wales. We sat down and had a chat to him about why he joined the business and what he loves about running his own business. Here's what he had to say:
What was it that attracted you to join The Leather Doctor business?
The business sounded like fun, and it is completely 'stress less'.
What did you do prior to becoming a Leather Doctor?
I was an IT manager for 35 years prior to joining The Leather Doctor
What territory do you operate?
I operate the Leather Doctor Wollongong, including the areas of Illawarra and NSW South Coast
What have you been able to achieve via your time as A Leather Doctor?
I have achieved a great work/private life. I also enjoy chatting to the customers. I even have Nana's giving me scones and coffee which is great!
What advice would you give to someone looking to purchase a franchise/operate a franchise?
My only advise is this is the work is more physical than you think. And if you are a couple, the best way to operate is for one to do the paperwork and bookings while the other does the work.
What's the most interesting job you've worked on to date?
It was one of my first jobs… I was pulling apart a lounge to repair it, but it was stuck. With some force, I got it apart and the customers wedding ring flew out and bounced on the floor. She was very happy – she'd lost it 10 years earlier!!
What do you love most about being a Leather Dr?
Fixing a damaged lounge and looking at the faces of the customers when it is all done and chatting and having coffee with the nana's.
Tell us one interesting fact about yourself?
I built the first digital photogrammetry computer outside of the US military, without instructions from photos off a website.
Describe your ideal weekend?
Too much football is never enough (the real football)!
If you live in the Wollongong, Illawarra or NSW South Coast, and need Ian's help to restore, repair or clean your leather furniture or accessories, please contact him on:
The Leather Doctor Wollongong
P: 0418 661 743
E: ian.dewey@theleatherdoctor.net.au
NOTE FROM HEAD OFFICE – 
We also wanted to recognise and congratulate Ian on the work he does in raising money for the McGrath Foundation via his 'Pink Docs' campaign. To find out more about the work he does, click here – https://www.myleatherdoctor.com.au/corporate-social-responsibility/