Today, we're talking to David Williams – the owner and operator of The Leather Doctor Brisbane Northern Suburbs in Queensland. We sat down and had a chat to him about why he joined the team and what he loves about running his own business. Here's what he had to say: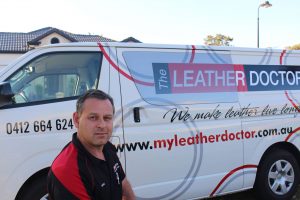 What was it that attracted you to join The Leather Doctor business?
Being your own boss, being able to take financial control,  balance to spend time with family, working preferred hours and to actually enjoy the work.
What did you do prior to becoming a Leather Doctor?
Retail and sales…I was a slave to the employer…
What Leather Doctor territory do you operate?
I own The Leather Doctor Brisbane Northern Suburbs. I operate a part of the territory and have a contractor helping to operate the other half.
What have you been able to achieve via your time as A Leather Doctor?
Been able to achieve travelling with the family, providing for the family, having family members work in the business, and expanding into The Timber Doctor and The Fabric Doctor brands

What advice would you give to someone looking to purchase a franchise/operate a franchise?
Know the difference between a franchise and independent business. Understanding that your conduct, ethics, skills and attitude reflect the rest of the franchise network, whether positive or negative. You will need to know how to manage all aspects of the business, including book keeping, customer service as well as being skilled in repairs. The great thing is that there is a support network always available to you in a franchise system. 
What's the most interesting job you've worked on to date?
I had a call from customer saying that their pet had nibbled chunks off the lower backrest cushions of a the leather lounge and it needs to be repaired before the husband gets home. Lucky I could get in quickly and sort out the damage 🙂
What do you love most about being a Leather Doctor?
Almost no two jobs are the same….Meeting really good people in their homes…. Being able to schedule time off when I need to
Tell us one interesting fact about yourself?
I like to complete a job quickly – no matter how big it is, how late it is at night, or if it's driving my family insane. I don't like to keep a customer waiting and I don't like having a lounge sitting in the workshop waiting to be worked on.
Describe your ideal weekend?
Watching Richmond AFL team (win)! 
If you're in need of David's assistance for a Leather or Vinyl clean, maintenance, repairs or re-colouring, please contact him today:
Phone – 0412 664 624
Email – david.williams@theleatherdoctor.net.au
You can also follow David and his Leather Doctor business on Facebook