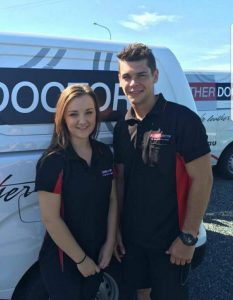 Today, we're talking to Cameron and Kayla – the operators of The Leather Doctor Mackay territory in Queensland. We sat down and had a chat to them about why they joined The Leather Doctor and what they love about running their own business. Here's what they had to say:
What was it that attracted you to join the Leather Doctor business?
We saw Jon (Cameron's Dad) working as a Leather Doctor for quite some time before we started. We saw The Leather Doctor as a niche business which would provide the opportunity to control our day to day life – not only how often and when we work, but also how hard we work.
What did you do prior to becoming Leather Doctors?
Cameron (who does the repairs and works with the customers) was an Electrician, Kayla (who does all administration and accounting for the business) was a Primary School Teacher.
What territory do you operate?
The northern section of the Central Qld territory – "Mackay and surrounds".
What have you been able to achieve via your time as A Leather Doctor?
As Kayla works from home, we have been able to start a family without having to drop an income like most families do. We have also managed to buy our first investment home and are hoping to expand this portfolio in the near future.
What advice would you give to someone looking to purchase a franchise/operate a franchise?
– You need to be ready to take on the problems that can arise
– Be honest and genuine with your customers
– A great work ethic goes a long way
– Don't burn bridges – swallowing your pride gets you further
What's the most interesting job you've worked on to date?
We were called out to inspect a $10,000 lounge for a local store as their customer was refusing to accept it due to UV damage which had caused it to fade in areas. They gave us the option to buy it and we saw it as a project…we were able to purchase the lounge for $800, then we changed the colour and restored it ourselves. It is now a beautiful lounge that we have in our home.
What do you love most about being a Leather Doctor?
– We can work our own hours
– Kayla can work from home
– We are solely responsible for the success of our business
Tell us one interesting fact about yourself?
Cameron's lungs have collapsed around 10 times and has had part of his lung removed – all before he was 19…!
Describe your ideal weekend?
Chill out at home as a family with our daughter watching movies and eating good food
If you live in the Mackay, Bowen, Cannonvale, Moranbah or surrounds, and need Cameron and Kayla's help to restore, repair or clean your leather furniture or accessories, please contact them on:
Phone: 0413 746 855