Despite being the resident Leather Doctor joker, Lee, who owns and operates The Leather Doctor Brisbane Bayside, is a highly skilled Leather Doctor, and an integral part of ensuring all Leather Doctors are trained to produce high quality upholstery finishes for their customers. We asked him a few questions about why he joined The Leather Doctor and what he loves about his job. Here's what he had to say:
Why did you join The Leather Doctor?
It's a bit of a story… stick with me…. I was working at Superior Leisure, manufacturing sporting goods for the AFL, Ruby league, schools and sporting clubs. We had a young man named Casey (for those who don't know, Casey originally owned Leather Doctor territories, and is now The Leather Doctor National Sales Manager) who come and did some vinyl repairs. I then started working at Crowthers Upholstery where we also used Casey to do some leather and vinyl repairs. The years went on and we keep using Casey's services. Years later, I left Crowthers Upholstery and started up La Chair Upholstery where Casey started sending me upholstering jobs and panels replacements. Soon after, I started working with Casey at Capalaba in his workshop. After some more time passed,  I became his sub-contractor. Some more years passed and I bought the area off Casey and now I run my own area and I am also the National Leather Doctor trainer in upholstery…. in actual fact I was not attracted to The Leather Doctor,  but worn down by Casey to join the franchise…. 🙂
What territory do you operate?
I own and operate The Leather Doctor Brisbane Bayside territory.
What have you been able to achieve via your time as A Leather Doctor?
I have been able to hand-on my upholstery knowledge and skills to other Leather Doctor technicians.
What advice would you give to someone looking to purchase a Leather Doctor franchise?
Gaining the freedom of running and owning your own franchise, and having control over your work schedule.
What's the most interesting job you've worked on to date?
Spraying the whole leather helm in a new colour for a 2009 / 73.30m Dragonfly luxury motor yacht, which included a helicopter and a swimming pool!
What do you love most about being a Leather Doctor?
The freedom of deciding on my own work hours.
Tell us one interesting fact about yourself?
I look younger than Casey, but on a serious note, my family comes first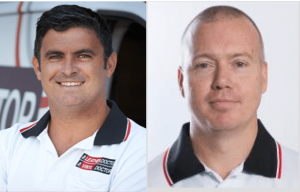 EDITORS NOTE – To give this comment some context, to satisfy your curiosity, and to let you decide for yourself who looks younger, we've included an image of Casey next to Lee. Let us know who wins in the battle of the looks 🙂
Describe your ideal weekend?
Enjoying time with my family but getting away from them on my Harley 🙂
If you're in need of Lee's help, be sure to contact him via the following:
Phone – 0431 702 909