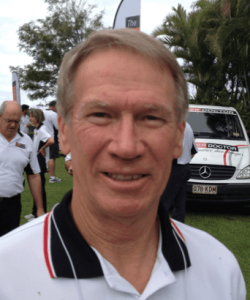 The Leather Doctor franchise network has been in operation for almost 30 years. Over the years, the group has grown to see upwards of 70 franchisees join the team, servicing in excess of 7,500 locations across Australia. One man that has been witness to the growth and changes of the Leather Doctor network is Paul Clifton. He holds the accolade of one of our longest serving Leather Doctors, was the first to establish a Leather Doctor franchise in Western Australia, and was awarded the Franchisee of the Year Award in 2012.
To celebrate these milestones, we sat down and had a chat with Paul.  Here's what he had to say:
You joined The Leather Doctor in 2005. What was it that attracted you to join the business?
I was looking for a new career, and was researching the franchise opportunities that were available at the time. When I found The Leather Doctor website and looked further into the opportunity, it appealed to me because it was a unique business and I thought I'd enjoy the hands on nature of the work.
What do you most love about being A Leather Doctor?
I have stayed in this business, operating and growing my franchise for a number of years, because it's offered me complete flexibility in terms of being able to dictate my own hours of work and play. I enjoy being able to meet and interact with new people every day and it's really rewarding to finish a job that was especially difficult or to see a customer's reaction when they see the result of a repair I've done. I also earn a fantastic income.
In terms of what I respect most about The Leather Doctor as a franchise model, it would have to be the unique skills that it has given me the opportunity to learn (such as being able to colour match leather and repairing damaged covers and furniture frames) – the training I've been supported with over the years has been fantastic! Also, the quality and integrity of our Head Office Staff and Management team has been unwavering, and being able to confidently walk into a customer's premises and solve their problems is a great feeling.
You were the first Leather Doctor to establish a franchise in Western Australia. How did you go about promoting your business?
After purchasing the first franchise in WA, I had several of the Head Office staff work with me to ensure I had a good grasp of the skills I would need to confidently complete work, and then we started to build awareness of the business and the services I could offer in the local communities. We started with pamphlet drops and visiting stores promoting the service and developing a rapport with management and staff.  My business grew quickly. Whilst I have undertaken a range of marketing activities since then, the business has also been successful due to repeat business and referrals – which has been really rewarding for me to see.
The Leather Doctor network has grown from strength to strength in a relatively short amount of time. Why do you think this is?
I personally think there are a number of reasons for this growth. To begin with, I think the diversity of the work that Leather Doctors can undertake is a huge factor – we are not limited in terms of the work that we can take on. We can work with both domestic and commercial customers and also across a wide range of industries, from furniture to boat, bike, car and aeroplane interiors and also accessories such as bags and shoes. There really is no shortage of customers if you're prepared to go out and generate awareness of your business and skills.
Helping to support this is the extensive (and ongoing) training that is given to all Leather Doctors, the presentation of the company (from our uniforms, to the fit out and branding of our vans) and also the after service care and support – as franchisees, we want to make sure our customers are happy – when they have a positive experience they will continue to use us and share our details with others which is a fantastic way for the business to grow.
What did a typical day as a Leather Doctor look like?
I honestly couldn't tell you what a typical day looks like as the work varies so much. One day I might be helping to repair a frame or the mechanics of a recliner chair, and another day I could be sewing a cut in a lounge, or recoloring leather to give it a new lease on life. I have been able to work on furniture, as well as helping customers reupholster leather on their motor bikes, boats and cars. I've also been lucky enough to be contracted to work on the upholstery of a $25 million corporate jet. The variety is what keeps it so interesting, as does being able to meet different people every day.
What have you been able to achieve via your years as A Leather Doctor?
Financial independence and ability to take a holiday when it suits me are probably the two greatest factors for me.
What advice would you give to someone looking to purchase a franchise?
When you're looking to buy a franchise, ensure you join a group that is growing and has successful franchisees that are willing to talk to you about their experience in the business. Also ensure that you choose a business where you are rewarded for the effort you put in, gives you flexibility to decide your own hours, and offers job satisfaction as work is completed.
To find out more about becoming A Leather Doctor franchisee, click here
To view The Leather Doctor franchise territories available, click here.