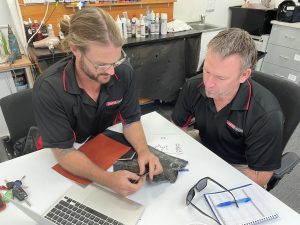 Please welcome yet another new Leather Doctor to our team – Chris. Chris will be helping Josh to operate The Leather Doctor Lake Macquarie territory in New South Wales.
We spoke to him about his reasons for joining The Leather Doctor and what he hopes to achieve as a contractor.
Here's what he had to say…
What was it that attracted you to join The Leather Doctor business?
Honestly, at first it was the name and the logo colours of black and red that caught my attention. After reading the job description and learning about exactly what the job entails, I knew I wanted to join. It's a great opportunity.
What did you do prior to becoming a Leather Doctor?
I was a supervisor for a poly tank manufacturing company. I was with them for 10 years starting as a machine operator and becoming the supervisor after 5 years.
What territory will you join?
Happy to say I will be joining the Hunter valley and Lake Macquarie team.
What do you hope to achieve during your time as a Leather Doctor?
To learn and become competent in everything that's required of the position I also want to help spread the branding and grow with the business.
What advice would you give to someone looking to join the Leather Doctor business?
Do it! It's such a great opportunity there's always something new to learn you will never be bored… not to mention the friendliness and support network of the business is second to none .
Tell us something interesting about yourself?
I'm a motor car enthusiast and a passionate family man.
Describe your ideal weekend?
Camping by a river with my family sitting around the fire at night kids toasting marshmallows while mum and dad enjoy a few cold ones telling stories, and if camping doesn't happen, you'll find us at a burnout competition.
If you're in need of Chris' assistance for Leather, Vinyl or Fabric cleaning, maintenance, repairs or re-colouring in the Lake Macquarie area, please contact him today:
The Leather Doctor Lake Macquarie
P: 02 4075 3001
About The Leather Doctor
Leather Doctors are highly skilled in undertaking a variety of work to leather and vinyl furniture, seating, car and boat interiors, medical and gym equipment, restaurant seating, office furniture and accessories to include:
cleaning and conditioning to leather and vinyl,
stain removal on leather and vinyl,
repairs to cuts, burns, scuffs and stitching on leather and vinyl,
re-colouring leather,
re-upholstery of leather, vinyl and fabric furniture and seating,
recliner mechanical repairs, and
foam replacements and frame repairs to furniture and seating.
All Leather Doctors travel in branded vans which allows them to come to you to complete jobs, giving you peace of mind about who you are letting into your home or business.