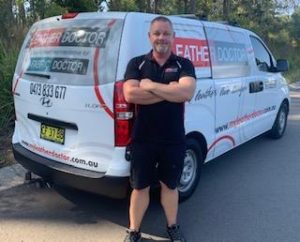 It's a warm welcome to our newest Leather Doctor contractor, Jay, who will be working with Scott Gambell to service TheLeather Doctor Newcastle North franchise in New South Wales.  We spoke to him about his reasons for joining The Leather Doctor and what he hopes to achieve working with Scott. Here's what he had to say:
What was it that attracted you to join the business?
I was really attracted to the aspect of getting out there and helping people and the challenge of meeting their needs. The interaction with our local area is something I enjoy immensely.
What do you most love about being A Leather Doctor?
The work is quite varied and, at times very challenging. Problem solving and learning from others in the trade is something I am enjoying.
What did a typical day as a Leather Doctor look like?
It's a funny question because there is literally no two days the same in this job…. that's something that keeps you going day in day out!
What do you hope to achieve via your time as A Leather Doctor?
Ideally it would be to become a franchisee myself! I'm learning so much from Scott and think I'd make a pretty good addition to the growing team.
Tell us one interesting fact about yourself?
I was an executive chef and cooked for the Prime Minister, Kevin Costner, Pete Sampras and Maria Carey amongst other prominent people.
Describe your ideal weekend?
It would have to be hanging out with the family at the beach.
You can contact Jay via the following phone number or email for all of your leather, vinyl and fabric cleaning, repair and reupholstery needs: