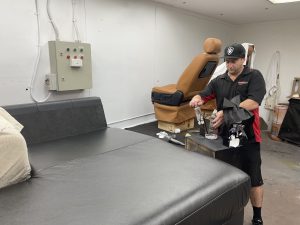 Please welcome yet another new Leather Doctor duo to our team – Chad and Mel. Chad and Mel will work as contractors, managing The Leather Doctor Burleigh territory in Queensland. We spoke to them about their reasons for joining The Leather Doctor and what they hope to achieve with the business. Here's what they had to say…
What was it that attracted you to join The Leather Doctor business?
The idea of joining the Leather Doctor team has been on our minds for a few years now. We believe it's a company which has a great reputation and solid foundations, so when an opportunity arose to become contractors for our local area, we decided to grab it with both hands!
What did you both do prior to becoming a Leather Doctor? 
Chad was an Electrician and Mel owned an Airbnb Management business.
What territory will you manage? 
Our local area, Burleigh 🙂
What do you hope to achieve during your time as a Leather Doctor? 
As a husband and wife team, we hope to continue to grow the franchise together through hard work and dedication, ultimately building a business which gives us financial freedom and a good work/life balance.
What was it about The Leather Doctor franchise that appealed to you? 
There are many aspects of The Leather Doctor franchise that appealed to us, including working within the territory which we live, the in-depth training we receive and the great working culture that The Leather Doctor provides.
What advice would you give to someone looking to purchase a franchise? 
We'd advise them to understand their territory and it's potential, as well as find out the operating profit of the previous franchisee and come up with strategies to improve on this.
Tell us something interesting about yourselves? 
This is not the first time we have worked together! We travelled the world and worked alongside each other on Superyachts prior to having children. We met in Mexico and share the same passion for travel.
Describe your ideal weekend?
We enjoy taking our kids on adventures to different beaches, on a hike in the hinterland, or for a picnic in one of our local parks and hanging out with friends. We love camping and if there's live music on somewhere, we will be there!
If you're in need of Chad and Mel's assistance for Leather or Vinyl cleaning, maintenance, repairs or re-colouring in the South Gold Coast area, please contact them today:
The Leather Doctor Burleigh
Phone – 0447 022 693
Email – chad.smith@theleatherdoctor.net.au
About The Leather Doctor
Leather Doctors are highly skilled in undertaking a variety of work to leather and vinyl furniture, seating, car and boat interiors, medical and gym equipment, restaurant seating, office furniture and accessories to include:
cleaning and conditioning to leather and vinyl,

stain removal on leather and vinyl,

repairs to cuts, burns, scuffs and stitching on leather and vinyl,

re-colouring leather,

re-upholstery of leather, vinyl and fabric furniture and seating,

recliner mechanical repairs, and

foam replacements and frame repairs to furniture and seating.
All Leather Doctors travel in branded vans which allows them to come to you to complete jobs, giving you peace of mind about who you are letting into your home or business.